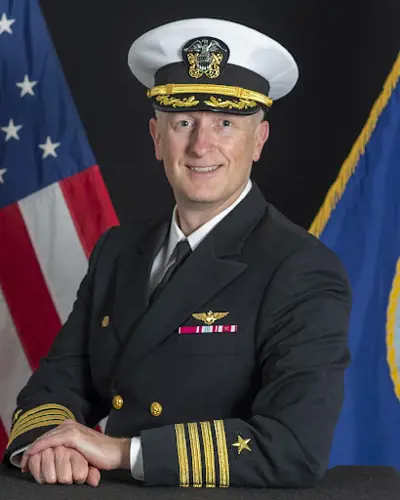 Commanding Officer
Captain Colin P. Day, USN
Captain Day was raised in a Navy family and is a native of Oak Harbor, Washington. He graduated from the U.S. Naval Academy in 1996 with a Bachelor of Science degree in Physics and was designated a naval aviator in February 1999.

Day's assignments at sea include participation in Operations Southern Watch, Iraqi Freedom, and Enduring Freedom with the Strike Fighter Squadrons (VFA) "Black Aces" of VF-41/VFA-41, the "Redcocks" of VFA-22, the "Eagles" of VFA-115, and command of the "Warhawks" of VFA-97. Additionally, he served as executive officer of USS George Washington (CVN 73) and commanded USS Lewis B. Puller (ESB 3) prior to reporting as commanding officer of PCU John F. Kennedy (CVN 79) in May 2022.

Day's shore assignments include various Naval Aviation Training Command squadrons, F-14/FA-18 fleet replacement squadrons, Strike Fighter Weapons School Pacific, NATO Communications and Information Services Agency Headquarters, Navy Nuclear Power Training Command, Nuclear Power Training Unit Charleston, and the staff of Commander, Naval Air Force Atlantic.

Day has accumulated 858 arrested landings during over 3,500 flight hours flying the F-14A Tomcat, FA-18A/B/C/D Hornet, and FA-18E/F Super Hornet. He is a graduate of the Navy Fighter Weapons School (TOPGUN), holds an Executive Master of Business Administration degree from the Naval Postgraduate School, and is a joint qualified officer. His personal decorations include the Legion of Merit, Defense Meritorious Service Medal, three Meritorious Service Medals, five Strike/Flight Air Medals, four Navy/Marine Corps Commendation Medals (with combat distinguishing device), and two Navy/Marine Corps Achievement Medals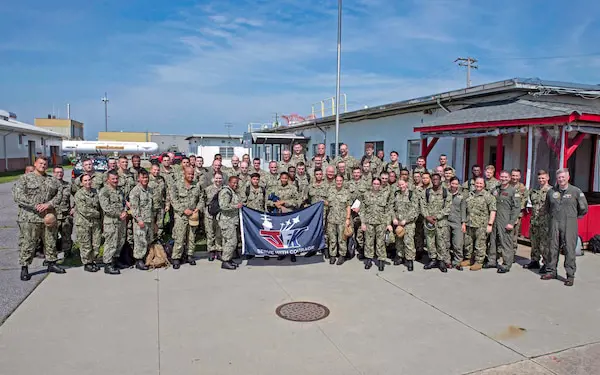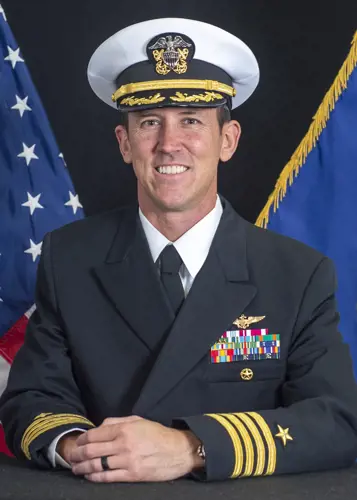 Executive Officer
Captain Trevor J. Prouty, USN
Capt. Trevor Prouty is a native of Kingwood, Texas, and a 2001 U.S. Naval Academy graduate. After commissioning, he was selected for the Immediate Graduate Education Program and earned a Master of Business Administration degree from the University Of Notre Dame in May of 2003.

Prouty's operational assignments include Helicopter Anti-Submarine Squadron (HS) 5 and Helicopter Sea Combat Squadron (HSC) 4. For his command tour, Prouty led the "Dragon Whales" of HSC-28 through their introduction to the mine countermeasure mission and the adoption of the MQ-8B Fire Scout unmanned aerial vehicle.

Ashore, his shore assignments include Helicopter Sea Combat Weapons School Atlantic, emergency action officer in the Nuclear, Homeland Defense, and Current Operations directorate of the Joint Staff in Washington, D.C.; and flag aide to Commander, Naval Air Force Atlantic. He also served as the U.S. Navy's 2020-2021 MIT Security Studies Program Military Fellow.

Prouty has accumulated over 2,000 flight hours in various naval aircraft. His personal decorations include the Defense Meritorious Service Medal and the Meritorious Service Medal, along with various other campaign, unit and individual awards.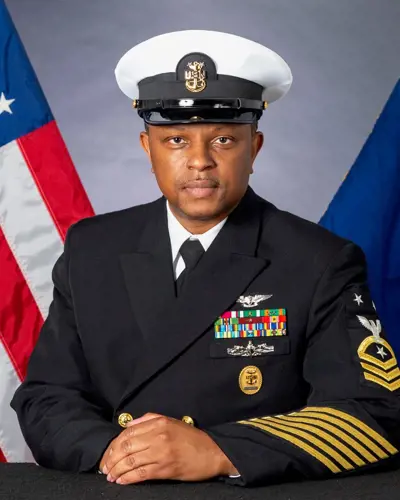 Command Master Chief
CMDCM (SW/AW) Miles A. Gray
Command Master Chief Miles Gray, the son of an Army Soldier, was a native of Homerville, Georgia and Columbus, Georgia. He joined the Navy's Delayed Entry Program and graduated from Jordan Vocational High School in 1995. He left for Navy boot camp in August of that year and completed basic training in Great Lakes, Illinois and Yeoman Class "A" School at Naval Technical Training Center, Meridian, Mississippi.

Upon graduation, he reported for duty onboard USS Ogden (LPD 5) in the Ship's Office as the legal yeoman, completing two deployments to the Red Sea and Arabian Gulf, and advancing to Petty Officer Third Class. His follow-on assignments and duties include: Commander, Navy Region Southeast as flag yeoman, where he was promoted to Petty Officer Second Class; Sea Control Squadron (VS) 32 as Administration and Maintenance Administration Department's leading petty officer, which included a combat deployment onboard USS Enterprise (CVN 65) in support of Operations Iraqi Freedom and Enduring Freedom, where he advanced to Petty Officer First Class; Navy Recruiting District Richmond as a recruiter, recruiter-in-charge and zone supervisor, where he was awarded Recruiter-in-Charge of the Year, laterally converted to Navy Counselor Recruiter, and advanced to Chief Petty Officer; Navy Recruiting District Philadelphia as division leading chief petty officer, where he was awarded the Inspirational Leadership Award and advanced to Senior Chief Petty Officer; and Navy Recruiting District San Diego as senior command trainer and senior enlisted leader where he was awarded the Region West Spirit of Leadership Award. He was selected for the Command Senior Chief program and promoted to Master Chief in 2016.

As a command master chief he was assigned to Strike Fighter Squadron (VFA) 11 "Red Rippers" in June 2016, completing the inaugural Dynamic Force Employment deployment onboard USS Harry S. Truman (CVN 75) in support of Operation Inherent Resolve and Exercise Trident Juncture. While assigned to the Red Rippers, they were awarded the 2017 and 2018 Chief of Naval Operations Safety "S" Award. He reported to the Helicopter Sea Combat Squadron (HSC) 22 "Sea Knights" in April 2019, where his team earned the Battle "E". He was then selected to lead the Helicopter Sea Combat Wing as the interim Command Master Chief for six months, overseeing 13 commands. He reported aboard PCU John F. Kennedy in May 2021.

Gray is a graduate of the Senior Enlisted Academy, Class 177 (Green) and Command Master Chief/Chief of the Boat (CMC/COB) Class 159 and he has earned his Associate's and Bachelor's Degrees in Psychology.

His decorations include the Meritorious Service Medal (2 awards), Navy and Marine Corps Commendation Medal (2 awards), Navy and Marine Corps Achievement Medal (7 awards), Military Outstanding Volunteer Service Medal and various unit and campaign awards. He has earned the Enlisted Surface Warfare Specialist and Enlisted Aviation Warfare Specialist devices.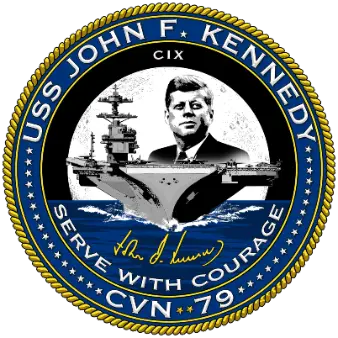 The seal which exemplifies President Kennedy's life
The ship's motto:
"Serve with Courage."
The future USS John F. Kennedy (CVN 79) will be the second Gerald R. Ford-class aircraft carrier. The seal integrates elements that honor President John F. Kennedy, his service to the Navy, and his vision for space exploration.
The seal features a ring of 35 stars to represent Kennedy being the nation's 35th President, while the Roman numeral "CIX" (109) notes Kennedy's naval service as commander of Patrol Torpedo Boat 109 in the South Pacific during World War II. A moon backdrop represents Kennedy's role in pushing forward the nation's space program.
Captain Todd Marzano, Former Perspective Commanding Officer, provided the following insight to the crest.
"From the first day of his presidency, he challenged every American during his inauguration speech to 'ask not what your country can do for you – ask what you can do for your country.' He regarded serving one's nation as an honor and held the utmost respect for those who did so with courage, especially when faced with adversity."
Quick Facts about CVN 79
PCU John F. Kennedy is the 2nd ship of the Ford Class.
At an official naming ceremony at the JFK Library, U.S. Secretary of the Navy Ray Mabus announced that the nuclear-powered aircraft carrier CVN 79 would be called USS John F. Kennedy. The announcement was made on what would have been the 94th birthday of President John F. Kennedy.
CVN 79 marks the second aircraft carrier to be named for the late president. The first, a conventionally powered carrier, served from 1968 to 2007 and was also built by Newport News Shipbuilding. Huntington Ingalls Industries Newport News Shipbuilding Division.
Keel Laid: 22 August 2015
Island Landing: 29 May 2019
Official Stand up of Command 2 October 2019
Christening: 7 December 2019
Installed combination of three SPY-6(V)3 radar arrays. First ship to have system providing 360-degree coverage. 19 July 2022
Commissioning: To Be Determined
Contribute to
USS John F. Kennedy (CVN 79) Commissioning
The Navy League's sole purpose is to fund what the Government does not. All contributions will enhance the quality of life for all those who will serve aboard the USS John F. Kennedy (CVN 79).